MaaS SolutionMaaS Solution
Busola creates future
with Maas
DISIGN proposes innovative solutions for MaaS (Mobility as a Service).
Busola systemSystem Architecture
"Busola" System Archtecture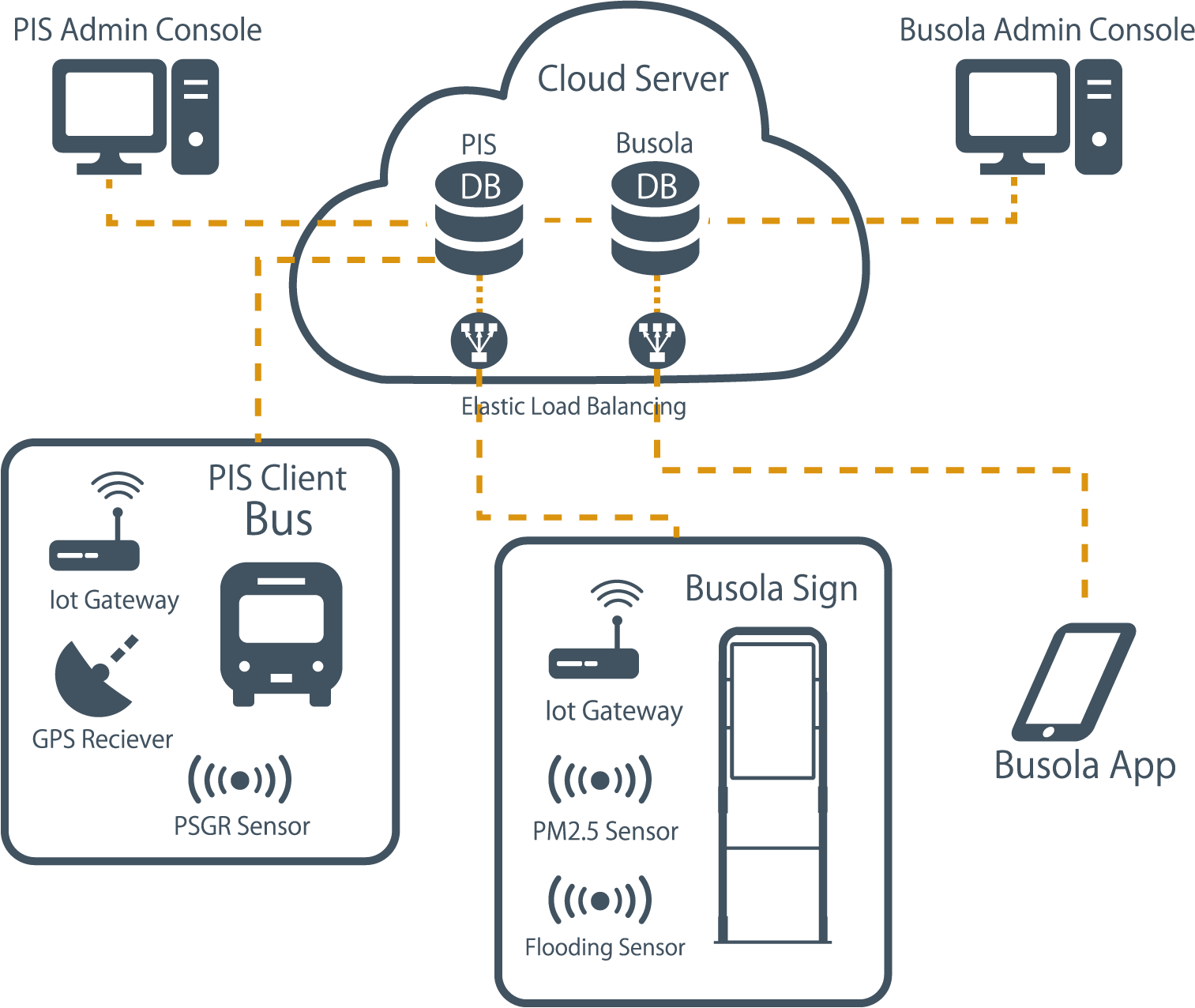 Busola SignECO Smart Bus Stop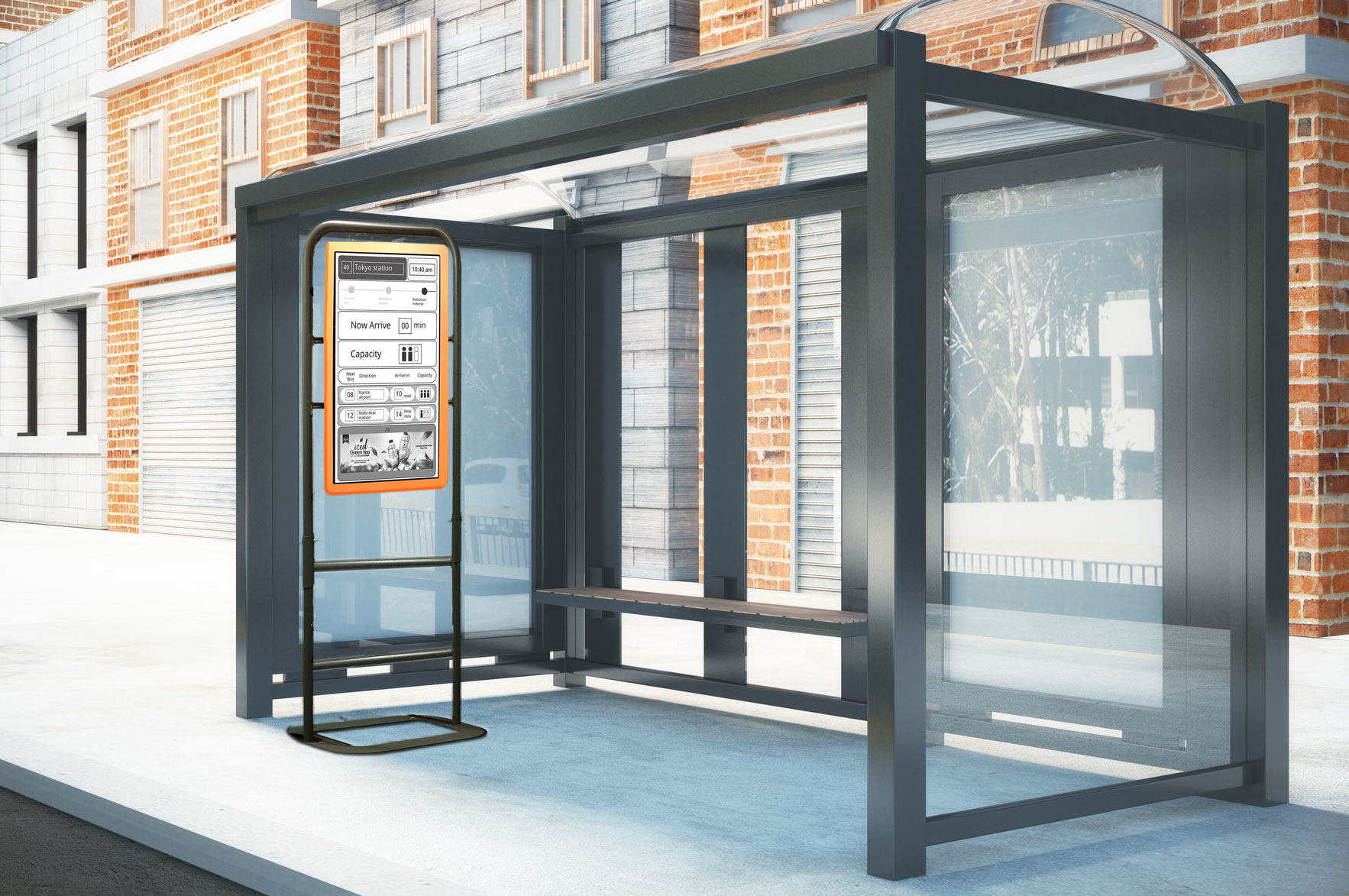 Benefits for Bus Passengers
Sends Info on Bus Operating Conditions in Real Time

Passengers can utilize information like the operating conditions or crowding aboard buses enroute, as it is sent and displayed in real time.

Provides Information on Deals along the Bus Route

Information on companies and business facilities along the bus route is provided to users on the fly.

Provides Environmental and Disaster Information

As examples, environmental and disaster information like flood and PM2.5 particulate levels for the areas along the bus route is provided and can be checked.
Benefits for Bus Operators
New Level of Convenience for Bus Stops

It creates a new level of convenience when a bus stop is equipped with information station functions, such as operating information for the buses.

For Increased Ridership

Making buses a more convenient means of transportation and enhancing the value of using them leads to increased ridership under the concept of "mobility as a service".

Providing Data Collected at Bus Stops

The system provides data collected from flood and PM2.5 sensors installed in the sensor box.
Busola Sign
Displayed Information
Bus Operating Conditions
(Sent in real time)

Earthquake and Disaster Information

Sends Weather Report, Advertising
and PM2.5 Particulate Information

PM2.5 Particulate Conditions
Visual Map

※Visual Map

Flooding Conditions
Visual Map

※Image for Reference
Busola Sign + Solar Bar
Displayed Information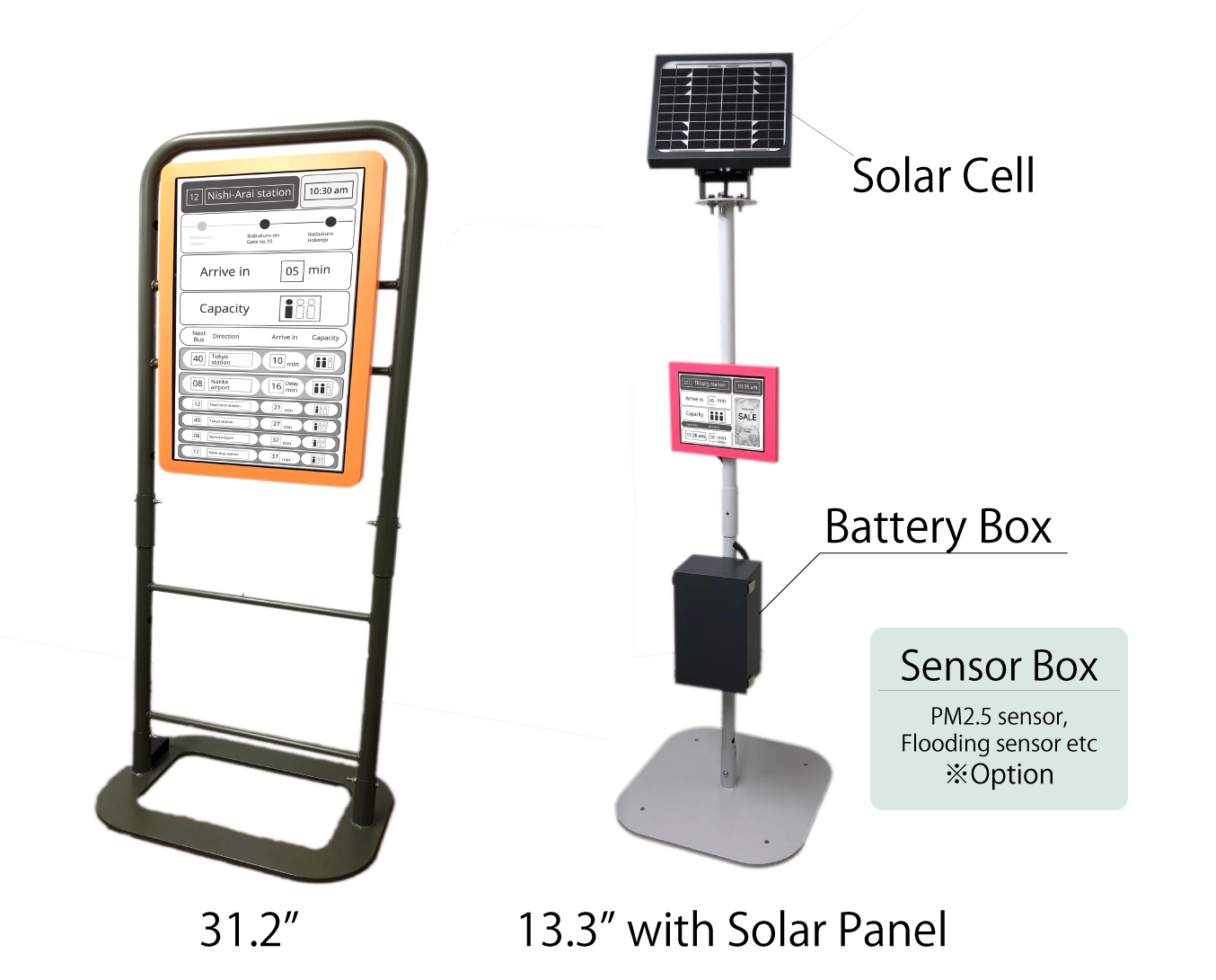 Completely Independent Wireless Smart Bus Stop

The only equipment construction required is securing the anchor. No power supply or networking setup required. Allows easy installation, anywhere.

Solar Stand Enables Autonomous Operation

It can be operated from the self-generated power of a solar system mounted on a solar stand, without connecting to the power grid.

Use of a Low Power-Consuming EPD

Because an EPD (electronic paper display) does not require power when displaying an image—only when changing the content—it helps keep power consumption down.
*Once an image is displayed, it does not require power to maintain it.

Visibility not Affected by the Environment

As it has the same contrast and reflectivity as paper, its display can be read under almost any environmental conditions, as long as there is light.
*No backlight is required. It uses reflected light, making it easy on the eyes.
to EPD Page